Are you looking for a special vessel to use for your simulations but there doesn't seem to be any model of it yet? We have the solution for you. We have done many custom projects and we are happy to help you if you are serious about getting a model made. We mainly focus on boats and ships but if you have an idea for something else you are welcome to contact us aswell.
---
Before you send us an email, there are a few things we need to discuss.
First of all is the price. Creating a realistic model takes a lot of time and therefore the prices are rather high, especially since the model we create for you is your own private model and we won't sell it to anyone else. Our prices start from 100 euros and up depending on the size of the project.
Another thing to discuss is how to make an accurate model. To do this we try to use proper ship plans as much as possible. We first of all need so called "General Arrangement"-plans, this gives us quite a good start for a model but preferrably we would also like "Frame Drawing"-plans. This is a plan that shows us the frames of the hull and we can use this to create a very accurate hull. This is something you as a customer will have to provide us with aswell as as many pictures of the vessel as possible for us to use as reference. If you have all of this, you're good to go!
Here is a "Frame"-plan as an example to show you what we are looking for.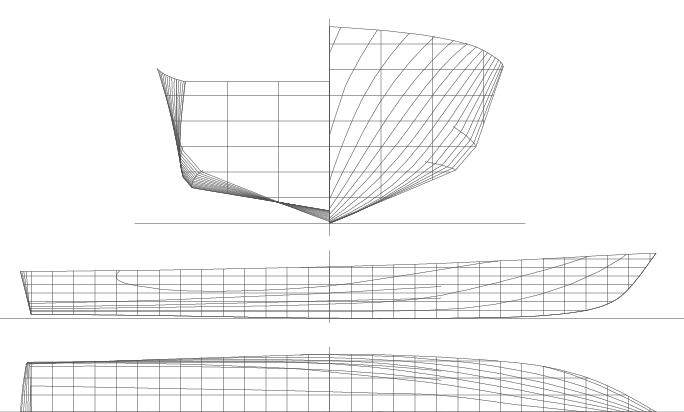 ---
There are also a few conditions you will have to agree upon before ordering a model.
– We try our best to create an accurate model but there are things that can be incorrect and you will have to have some oversight with this.
– A model takes a long time to finish and you we cannot promise a fast delivery. You can expect to be waiting atleast a couple of weeks.
– As we do not want to spend days modeling and not getting paid, you will have to either pay 100% in advance or 50% in advance and 50% when the model is finished. After the full amount is paid you will get the link to download the model. Payment is through PayPal as with all other models on the site.
– Configuring the vessel in the simulator is not our area of expertise, this is something you will have to do yourself.
By ordering a model from us you agree to these terms and conditions.
---
If you are happy with paying us for our work, have the plans and images ready you are more than welcome to email us with your idea to sim3d@snabbserver.com.
We look forward to collaborating with you and creating your dream model!